Clear Roof Breathes New Life Into Historic Spanish Church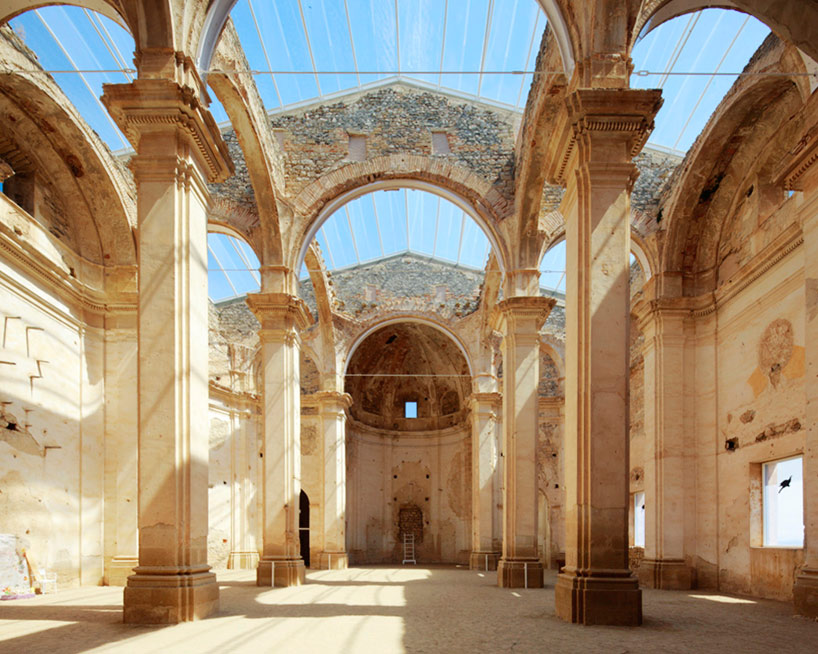 The town of Corbera d'Ebre in Tarragona, Spain was home to the ruins of a church dating back to the Spanish Civil War. While the ruined church was lovely to look at, it offered no usable space thanks to a crumbled roof and other unstable segments.

Ferran Vizoso Architects created a new roof for the building that gave it new life while preserving its historic presence. The roof is an enormous transparent skylight that fills the church's interior with natural light.

It was very important to town officials to keep the historic look of the building intact. The goal was to strike a happy balance between history and the present, as well as between indoors and outdoors.
Continue reading below
Our Featured Videos
The huge skylight made the church into a usable community space but kept the feeling of being surrounded by historic ruins. That is, when you step inside, you feel that you are still partially outside.

The resulting interior is sophisticated and romantic. The sun streams down through the transparent ceiling while breezes and bird sounds permeate the interior of this exquisite Spanish church.
"The main purpose of the work was to restore the public use of the old temple, transforming it in a new and secure multifunctional public room. But the challenge was to do it without changing its appearance, a great symbol and expression of the Spanish Civil War."
"In the third phase of the works the structural consolidation was completed and a new transparent EFTE plastic roof was done. This new cover stops the deterioration of the construction, due to rain and wind, and greatly improves its habitability conditions. Then the people of Corbera will be able to use the space without worrying about the weather."
"Since the beginning of the works one thing was clear, the restoration had to preserve the subtle balance in between nature and construction (exterior and interior) that all runes have. The perception of still being outside when "entering" in the old church had to be kept. The sun's rays passing through the light weighted transparent cover, the air breezes and bird sounds crossing the high naves from all over and the sandy pavement made it possible. The result is a very original romantic scenario halfway in between in and out."