Aston Martin Designs Sleek New "Sylvan Rock" Home in New York
What sort of residence might you expect from luxury British carmaker Aston Martin? Whatever you envision, it's probably not too far off from the reality of "Sylvan Rock," the modernist dream home the company designed in collaboration with S3 Architecture. The first in a new series called Automotive Galleries and Lairs, Aston Martin's custom home design service for rich car connoisseurs, Sylvan Rock is tucked away on 55 private wooded acres in New York's Hudson Valley, about 90 minutes from Manhattan.
Continue reading below
Our Featured Videos
Even at first glance, you can tell that this home is one of a kind. The dream retreat features an angular silhouette with a cantilevered upper level clad in dramatic black cedar, the roof extending down on one side to form a protective carport suggestive of a raven's wing. The glazed lower level is partially enveloped by the rocky landscape, offering sweeping views in some rooms and gazing directly into the cutaway terrain in others.
Naturally, one of the house's biggest selling points is a glass gallery-style room where luxury cars can be displayed, visible from the adjacent glass-walled wine lounge to maximize opportunities for admiration. Here, the latticed wooden wine rack makes visual reference to Aston Martin's logo while creating just a little bit of separation between the two spaces.
While S3 Architecture handled much of the design process, Aston Martin had a heavy hand in the interior design and furnishings, outfitting the spaces with parquet flooring, leather details, marble-topped tables, and leather-trimmed seating.
If you're a fan of contemporary horror films, the Sylvan Rock treehouse is sure to give you a thrill. Its design, coupled with the remote surroundings, is highly reminiscent of the setting for Ari Aster's nightmarish 2018 film Hereditary. If you don't have that association in your head, of course, it's just a lovely addition to the retreat, set on bark-clad log supports and complete with suspended hammocks.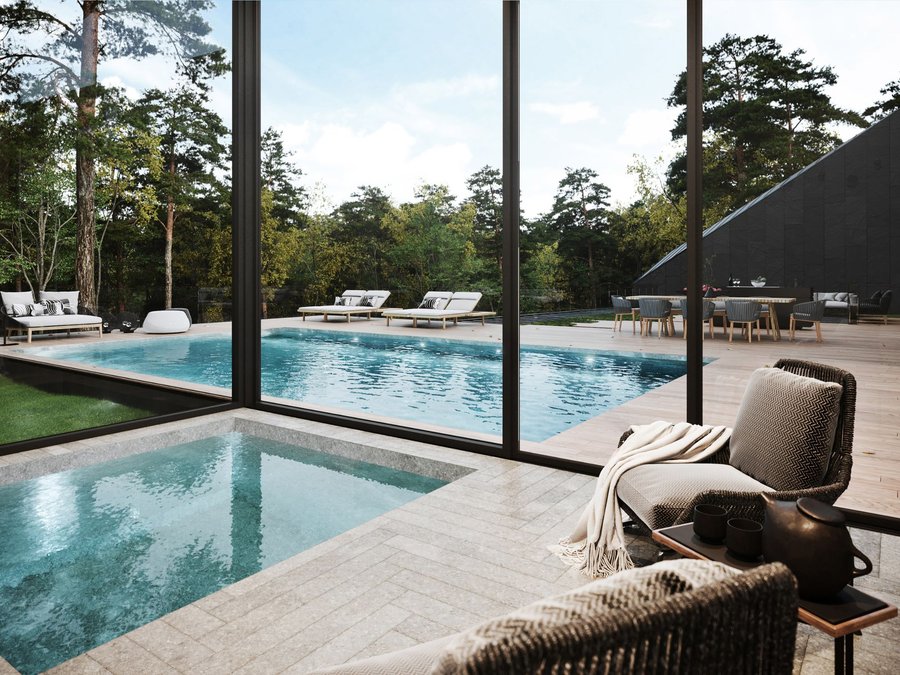 "When designing, we always let the land speak first and respond to it," says S3 Architecture partner and Registered Architect Christopher Dierig. "The roofline mimics the jagged edges of the rock ledge reaching down into the earth, as if the home is born of and launching from the landscape. The resulting design blends our modernist aesthetic with the privacy and context of the rural location to create a unique luxury experience."
The estate is "a strong marriage of design sensibilities," says Cathal Loughnane, head of Aston Martin partnerships. He adds that "creating a luxury residence with warm textures, bold forms, and exceptional privacy is very aligned with Aston Martin's own vision. We wanted the owner and their guests to experience the three-dimensional feel of the house in an organic way, just like you experience one of our cars — there is no single facade that dominates. Fully integrated into its surroundings and the community, Sylvan Rock is rare example of a complete residential work of art."
Boasting 8,430 square feet of floor space, the home is accessed by a long driveway leading up to a lower entrance that just happens to pass by the automotive gallery. It will also have multiple outbuildings, including a series of pods that can adapt to multiple uses, like extended guest stays, remote offices, business retreats, and home schools.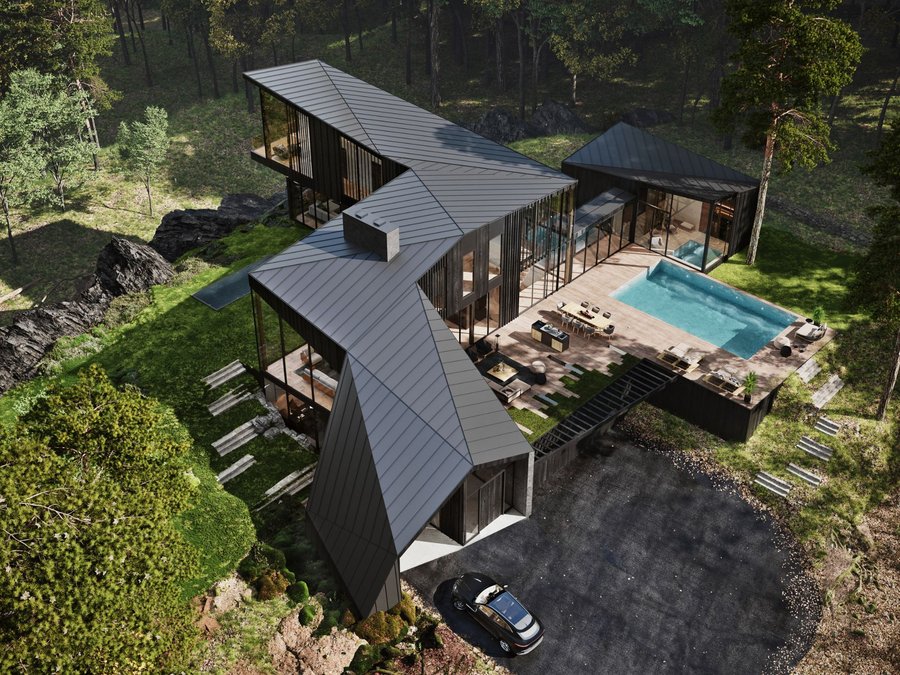 Unsurprisingly, Aston Martin has a car recommendation to go along with the home, as if pairing a wine with a fine meal. The DBX, also designed with S3 Architecture, features an onyx black exterior, while the interior includes Oxford Tan leather, black Q brogue stitching, and hardwood inlay.