A-Frame Greenhouse Home Brings a Mediterranean Growing Climate Wherever You Want to Live
If you could bring a mild, temperate growing climate with you anywhere in the world, would it change where you choose to live? This unusual greenhouse home design could make far-flung northern locales in countries like Canada, Sweden, and Russia more hospitable and attractive, especially as climate change makes regions around the equator too hot to handle. A Swedish company called Naturvillan builds beautiful light-filled homes beneath protective climate shells that regulate the temperature around the living space year-round, allowing residents to grow pretty much whatever they want, even if it's sub-zero outside.
Continue reading below
Our Featured Videos
One of their latest creations is "Atri," an A-frame off-grid house with a mix of open living spaces and private rooms spread out over three levels, all connected to an open atrium shielded by a glass ceiling. Built in Sikhall, Vänersborg on the shores of Lake Vänern, the home is designed for a completely self-sufficient lifestyle with solar power, a wood-burning stove, built-in raised bed gardens to grow your own food, and connection to on-site well water and septic so no outside utilities are required. Its pointed design mimics the shape of the surrounding conifers.
The home essentially creates its own little microclimate thanks to the greenhouse effect, which can be amplified by the wood stove in harsh winter weather. Not only is that conducive to growing even heat-loving vegetables like tomatoes and peppers in winter, it also lets occupants enjoy an outdoor lifestyle year-round. Throughout the home, you have the ability to gaze out the glass A-frame roof, providing a direct connection to nature. It's a refreshing change from architecture that can often feel in conflict with nature, working against it instead of with it. The architects intentionally kept the building site as free from intervention as possible, simply creating a gravel pad that visually connects to the neighboring sandy beach.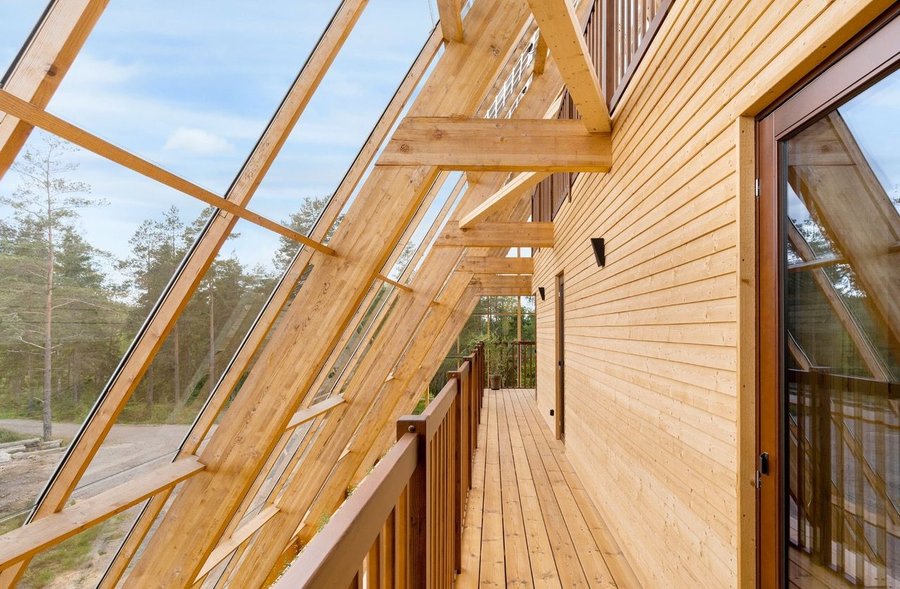 If there's one caveat to such a design, it's the question of whether the home could become uncomfortably warm in the summertime. Though it would increase the cost by a lot, perhaps the kind of glass that can change from clear to opaque on demand would help fine-tune the level of sun protection when needed. That price, by the way, is SEK 7,850,000 ($770,310 USD). The Atria home measures 1,335 square feet and has two bedrooms and 1.5 bathrooms. Other homes by Naturvillan boast similar greenhouse-inspired designs, including the Mini, Midi, and Maxi.
Naturvillan offers a utopian vision of how such homes can be used. "With most of the outer garden only formed by nature you enter your own dream garden inside a greenhouse with a breathtaking high ceiling filled with brightness and clean air. Park the electric car and connect it to your own grid generating new power or to use for electricity in your house. Pick a couple of tomatoes along the green eco cycle wall before you go inside the dwelling. The entry hall is spacious, has easy access to next floor which contains bedroom(s), WC, balcony, and a library. Climb up to the roof terrace and breathe the air, relax, and enjoy the view."