9 Hot Interior Design Ideas Trending on TikTok Right Now
While we're not even a quarter of the way through 2021, some distinct interior design trends are already emerging on social media platform TikTok. With videos of one minute or less, the app is quickly becoming the go-to source of decorating inspo for the millennial and gen Z crowds. Shaped by the 2020 coronavirus pandemic and the subsequent home-bound nature of our lives, its easy to see why the following ideas are now racking up the hashtags among all age groups:
Cottagecore
Continue reading below
Our Featured Videos
Having taken a firm hold last year, the cottagecore aesthetic is still going strong in 2021. If you're trying to wrap your head around this design movement, its basically a romanticized version of life in a rural English cottage. Its organic, vintage, and homey.
Painted Arches
Solid or rainbow arches are being painted everywhere on TikTok these days. Often used to frame out a focal point, painted arches make for great faux headboards and backdrops to desks or shelves. They also can also stand alone as bold geometric wall art. Best of all, it's an easy trend to copy; all you need is paint and some tape!
Wall Paneling
After a year of staring at plain walls in quarantine, many people are ready to add texture and pattern to those flat surfaces. Giant squares are common, but diamonds, frames, and asymmetricaly-angled lines are also on the public radar lately. While they might look complicated, creating cool wall paneling can actually be fairly simple.
Perhaps the less-than-ideal conditions of 2020 are making people long for the practically-perfect sitcom life of the 1950s and 1960s. Sleek lines, a mix of bright and neutral colors, and function over form are the highlights of this trend. Look for waterfall dressers, Eames lounge chairs, and rectangular consoles with hairpin legs.
Dark Kitchens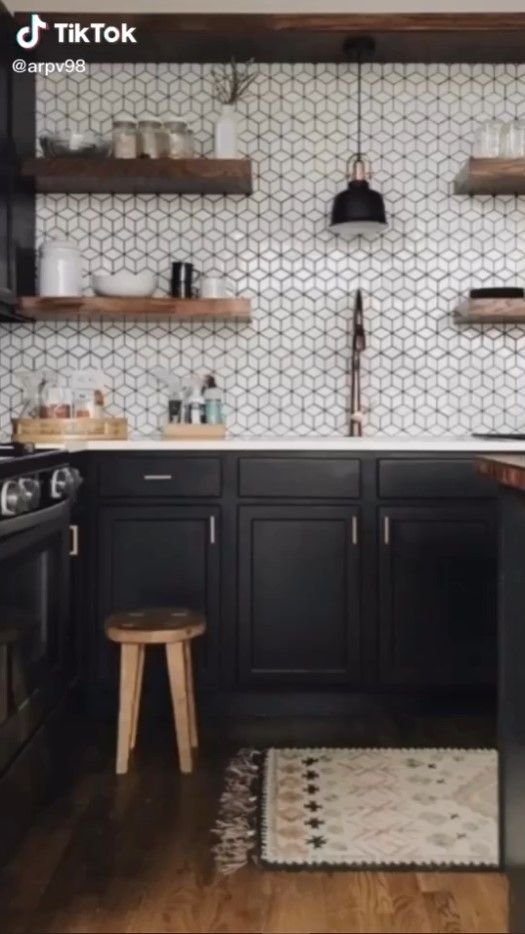 After a few years of starkly white kitchens, there finally seems to be a movement toward moodier cooking spaces. Dark cabinets and walls add warmth and depth to 2021 kitchens.
To help bring the outside in, vertical walls covered in real or artificial greenery are all the rage. They can make focal TV walls, patio additions, or just fantastic organic art.
Kitchen Pantries
Thanks to all this time at home (not to mention midday snack cupboard raids), the number of searches and hashtags featuring kitchen pantry makeovers is skyrocketing. There may not be one particular style for this trend, but the overall idea is to use a bucket, basket, or drawer to house every last food item for maximum visual beauty.
Japandi
This new design style is a mashup of Scandi style and Japanese minimalism. Its characterized by a lack of clutter and a sophisticated blend of natural and synthetic textures. The overall effect is warm and calming but centered around ultimate functionality.
Pink Bathrooms
Pink is having a moment in the interior design world right now, with various blush shades popping up everywhere in TikTok bathrooms. It can be a soothing hue for a soak in the tub, while more vibrant chromas can bring life and energy into smaller spaces.
Until the pandemic fully ends, we can expect interior design trends on TikTok and elsewhere to focus on making our personal spaces cozier and more welcoming, as well as fresher and more exciting.