5 Buildings We Can't Wait to See Completed in 2020
Continue reading below
Our Featured Videos
The new year will bring the completion of a pretty dazzling array of architectural projects, some of which have been in the making for a decade or more. Major firms will be cutting the ribbons on career-defining structures, and some of them are record-breakers, too.
These five exciting examples include a new super-tall tower for Chicago, the posthumous completion of a striking hotel designed by Zaha Hadid herself, an Olympic stadium, and two examples of buzzworthy concepts looking to prove themselves in the real world.
Opus by Zaha Hadid Architects, Dubai
The first and only hotel in Dubai to be designed inside and out by famed architect Zaha Hadid herself, the "Opus" is a cube-shaped volume with a "carved" central void, bringing some of Hadid's signature curvature to the project. Located within the city's Burj Khalifa district, the building will contain a "ME by Melia" hotel as well as 12 restaurants, a rooftop bar, and 56,000 square feet of office space. Each side of the cube is conceived as its own separate tower, connected by narrow bridges at the top and bottom.
"The Opus will be aligned with Omniyat's vision of treating each project as if it were a unique work of art," says Mahdi Amjad, Executive Chairman and CEO of Omniyat. "The design conveys the remarkably inventive quality of ZHA's work; expressing a sculptural sensibility that reinvents the balance between solid and void, opaque and transparent, interior and exterior."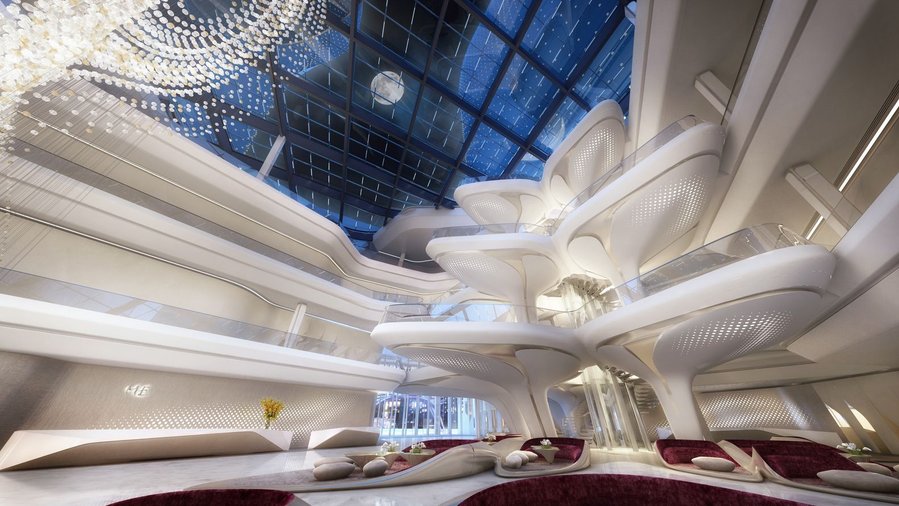 There's no word yet on exactly when the hotel will open to its first guests, but construction is nearly complete as of early 2020.
Nanjing Zendai Himalayas Center by MAD, China
When architects first began proposing futuristic-looking developments resembling mountains years ago, they seemed like fantasy concepts that would never actually be built. MAD Architects is proving that theory wrong with its Nanjing Zendai Himalayas Center, which is quickly nearing completion in China. The mixed-use development occupies over 560,000 square meters of building area and will host residential, hotel, office, and commercial facilities, and it's all characterized by mountain-like towers around the edge with glass screens that "flow" like waterfalls.
The firm explains that "these features provide interior spaces with energizing light and wind to form a subtle, calming ambiance. The project mimics the site's surrounding mountains and meandering rivers that are essential parts of Chinese aesthetic philosophy. Towers along the edge of the site act as a mountainous backdrop, while water features such as ponds, waterfalls, brooks, and pools connect buildings and landscapes to integrate all of the center's elements. This integration goes beyond form, with the water features functioning as reservoirs to collect and recycle rainwater for irrigation."
Vista Tower by Studio Gang, Chicago
It's not every day that a city gets a new landmark that dramatically alters its skyline. In Chicago, the tale of the failed Spire super-tower has become legendary after what was supposed to be the tallest building in North America never made it past the construction of its giant foundation hole. That hole has now sat empty for well over a decade. The new Vista Tower by Studio Gang may not fill the literal hole in the ground, and at 1,186 feet, it won't be anywhere near as tall, but once completed, it will be the city's third-tallest skyscraper.
"Residential and hotel amenities combine at the upper levels, creating a vibrant social center," say the architects. "At ground level, the building creates an essential pedestrian connection between the Chicago Riverwalk and the nearby community park's outdoor recreational facilities."
1,000 Trees by Heatherwick Studio, Shanghai
A lot of concept architecture over the last decade has featured full-scale trees adorning the facades of buildings. While it certainly looks cool, there have been a lot of good questions raised about the weight of the soil, the impact of the tree roots as they grow, and lots of other potential problems. As Heatherwick Studio completes its 1,000 Trees development in Shanghai, we'll finally get to see how it all works out. Heatherwick's design differs from others in a few crucial ways, like the use of concrete structural columns to support the trees. The mixed-use project also resembles an artificial mountain from afar, adding some interesting topographical dimension to an otherwise flat city.
National Stadium by Kengo Kuma, Tokyo
Japanese architect Kengo Kuma's National Stadium was technically completed in November 2019, but this summer, we'll get to see it in use for the 2020 Tokyo Olympics and Paralympics. Kuma is a master of wooden architecture, and the new stadium is one of his largest and most complex projects to date, made with over 70,000 cubic feet of larch and cedar wood sourced from all of Japan's 47 prefectures. The stadium was originally set to be designed by Zaha Hadid, but her firm's predictably curvy design was deemed too expensive.
Which one of these projects are you most excited to see finished?